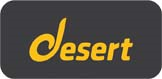 Caprari launched Desert series 4 in borehole pumps in 2011 to provide a solution for applications with high percentages of sand and solid contents. The resulting increased demand for Desert borehole pumps encouraged Caprari to add new 4 in models to the line and to extend it to include the 6 in size.  Caprari now offers a comprehensive Desert range for extreme applications.
E4XED AND E6XD
• Top level efficiency and performance • Machines conform to Directive 2009/125/EC (EcoDesign - ErP) and Regulation 547/2012 • Bushings in sandproof material • Bearings protected against the entrance of sand • Impellers in abrasion-resistant technopolymer • Defender: patented system to protect both wet end and motor from corrosion and galvanic currents by passivating the stainless steel. • Sand-Out System: patented system to convey large quantities of sand and solids • Smart-Fix System: patented system specifically designed for high pressure • Desert Line machines are certified for use with drinking water in accordance with the regulations in force. Defender®, Sand-Out System®, Smart-Fix System®, are Caprari International Patents
E4XD AND E6XPD
With the reinforced structure of the diffusers and the wider fluid passageways, some of the Desert Line models can function with liquids containing up to 450 g/m3 of solid contents. These are eXtra Performance machines designed by Caprari for heavy duty applications with very high sand content.