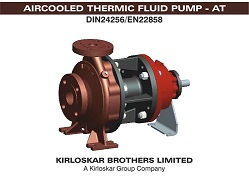 KBL will be showcasing some of its pump products that have a wide range of applications in the knitting industry, such as the Hydro-Pneumatic (HYPN) system and Air-cooled Thermic Fluid (AT) pump. The pressure boosting HYPN is a conventional pumping system converted into an automated pumping system, which ensures energy and cost savings. The AT pump is used for handling thermic fluids in various process industries. The pump can handle fluids up to 350°C.     
The 14th edition of KNIT Tech will primarily focus on the growth opportunities and arising from the latest technological developments taking place in the knitting industry. The event will host business visitors from domestic and international markets such as Sri Lanka, Bangladesh, Malaysia and Singapore, among others.
Exhibitors from various segments of the textile industry, such as knitting, dyeing, printing, sewing, garment etc., are expected to participate in the four-day fair.