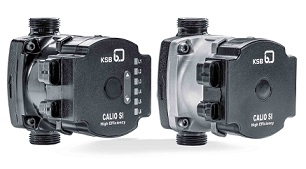 The series is intended for use in heating, air-conditioning and solar power systems where the pumps facilitate automatic operation with constant-pressure or proportional-pressure control as well as operation with 0-10 V setpoint input or external control via PWM signal in accordance with VDMA-Einheitsblatt [Standard Sheet].
On the HMI, Dual and EcoMatch variants the user can select the required mode of operation via two pushbuttons on the control panel.
The new pump sets are driven by high-efficiency wet rotor motors whose efficiencies significantly exceed ErP 2015 energy efficiency requirements.
Full motor protection with integrated electronics protects the winding from overheating while excellent operating reliability is ensured by an automatic rotor deblocking system and a soft-start function. The 6-pole rotor design enables low-noise operation and minimum cogging torque. At fluid temperatures of up to 110 °C, maintenance-free ceramic bearings ensure the pumps' long service life.
The drive ratings of the 15 different sizes range from 25 to 62 watts and the pumps are available in standard overall lengths of 130 mm and 180 mm.