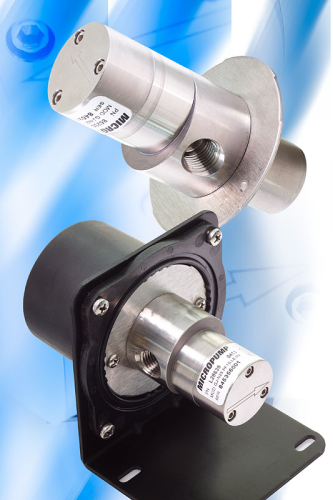 The Micropump range of magnet drive pumps are now available with all-new electromagnetic brushless DC motors which provide increased torque and power for liquids handling applications requiring higher flow rates.  
Available through Michael Smith Engineers, the new EagleDrive model MS option is a compact, high performance drive providing a speed range of 500 to 10,000 rpm, torque of 70 mNm, power of 48 watts and weighs just 0.3kg.
The new MS drive can be coupled with the GA, GAF and GJ Series of Micropump's stainless steel, leak free gear pump heads, covering capacities up to 1800 ml/min and differential pressures to 17 Bar.  The MS drive can also be integrated with Micropump's abrasion resistant centrifugal pump, the CA Series, for circulating and transfer applications requiring higher flows and lower differential pressures.
The small package size and increased power opens up new options for designers along with easier integration into system designs, while fewer moving parts means higher reliability and longer life.  Other features include speed adjustment using 0-5 vdc signal, over temperature, under voltage and internal fault output signals, forward and reverse rotation, surface mounted electronics, built-in microprocessor control and tachometer output for simple system integration.
The MS model is supplied with a standard smaller foot mounting bracket although this can be removed if mounting to the plastic housing is preferred.  The drive can be run on a wide range of power supply voltages from 10V to 38 VDC and has an operating temperature range of -40ºC to +120ºC.