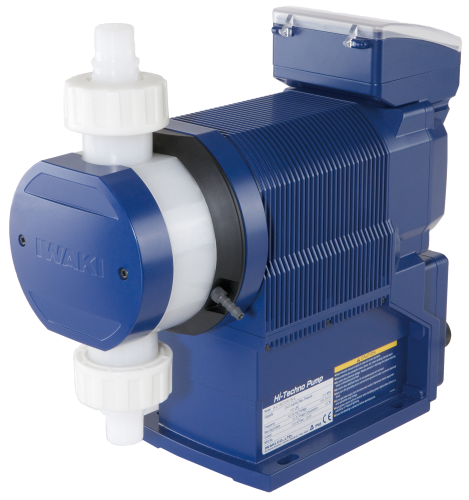 The IX Series uses helical gears and spring assistance through which power consumption is reduced by 70% compared to the standard spring back design, the company says.
The pumps feature a wide turndown ratio control motor which adjusts the discharge and suction speeds to meet a wide turndown ratio of 750:1 from 200 mL/hr to 150 L/hr. It has multi-voltage operation (100-240VAC) which is compatible worldwide and is compliant to UL, CE standards. The drive and control units are sealed separately to an IP65 enclosure.
All models have a diaphragm rupture detector and a detector for abnormal operation which protects the pipework in case of an accidental high discharge pressure caused by clogging or improper operation. The valve design only allows assembly in the correct orientation and a drain hole also ensures safe operation even when the diaphragm is damaged.
The range handles a maximum viscosity of a 1000 cps and a liquid temperature range: 0 -50°C (TC, TE type), 0-80°C (S6 type).  The indoor operating temperature range is 0-50°C and the maximum dry suction lift is 6.5 ft (2 m).
The IX Series is suitable for automated chemical delivery in industries including water treatment to chemical process but it is also suitable for other dosing applications and can reportedly handle virtually any chemical.