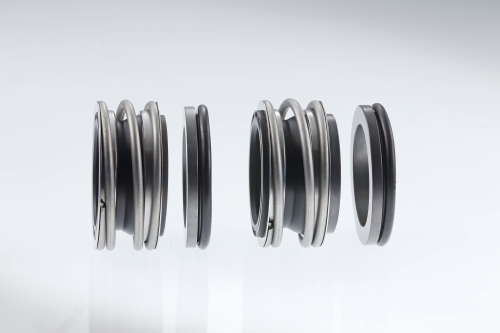 These can be used to seal, among other things, chemical pumps, water and waste water pumps, circulating pumps and submersible motor pumps in numerous industrial sectors. The eMG1 is 100% compatible with the well-known MG1 standard seal. EagleBurgmann says it has been innovated in detail and functionally expanded. A vastly reduced outer diameter of the bellows support now allows direct support by a retaining ring or with the use of much smaller spacer rings. The optimized bellows shape improves the automatic alignment of the bellows on the shaft and minimizes stick-slip effects.
EagleBurgmann says the profiled PEEK-PTFE disk ensures consistent centering across the entire pressure operating range, exhibits good sliding properties and safeguards the automatic alignment of the elastomer bellows in operation through continuous self-cleaning. The eMG is identical in construction with the eMG1, but has a 20% shorter installation length. This provides manufacturers with new opportunities in pump construction: e.g., a more compact design due to shorter shafts with the associated material savings and increased efficiency.
EagleBurgmann says the rotating unit is space-saving. The computed pre-modelled bellows design and the spring assembly have no excess lengths and the outer diameter of the bellows support was reduced to a minimum.