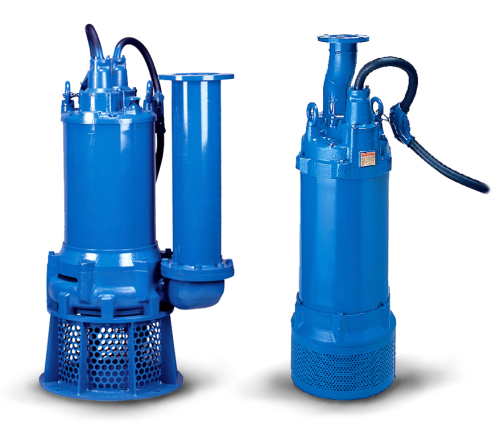 The new pumps include three new LH series models and a new pump in the GSZ range. The LH series are high-head, three-phase dewatering pumps capable of withstanding deep water pressure levels. The LH890 and LH690 models, which have a 90 kW motor, and the LH8110, which has a 110 kW motor, are suitable for used in stone quarries. The pumps are almost 1.8m tall, weigh over 1 tonne, and are 0.6m wide. The pumps feature an impeller made of high chromium iron casting and a cylindrical drive channel whose flow-through design maintains motor cooling.
While the LH8110 is capable of transporting up to 6,500 l/min and up to a head of 107m, the LH690 can deliver up to 2,500 l/min and has a maximum head of 150 m. The LH890 can pump up to 90 m with a maximum capacity of 6,000 l/min.
The GSZ pump is designed for high-head, high capacity work in rugged conditions. It is a three-phase submersible cast iron contractor pump that stands almost 1.8 m tall, measures more than 1m wide and weighs approximately 1.2 tonnes. It is capable of transporting up to 12,500 l/min with a maximum head of 52m.
The pump features a special steel impeller and suction plate and an internal spiral structure to help ensure the smooth passage of sand, soil, sludge or slime without clogging. It also features a 4-pole motor.