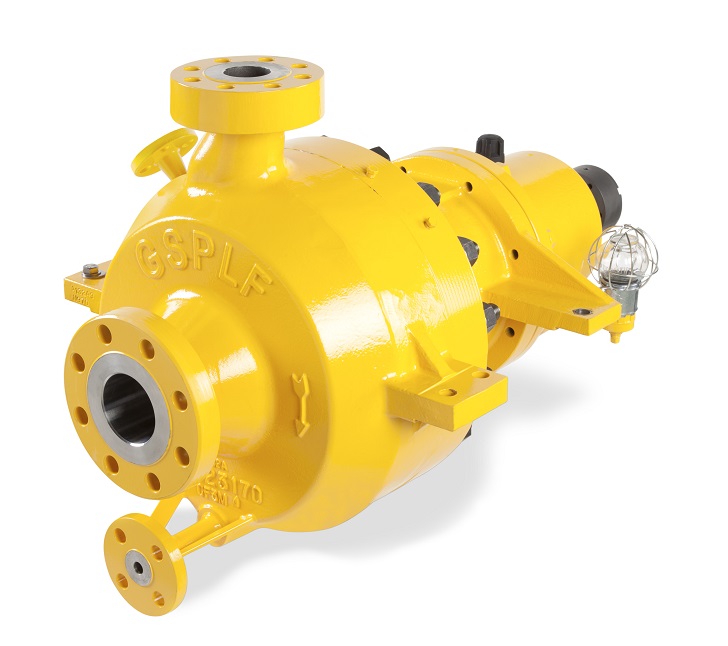 Sundyne Barske Wheel hydraulics have been combined with the HMD Kontro sealless magnetic drive to develop the GSPLF OH2 sealless magnetic drive pump.
The GSPLF is a low flow sealless magnetic drive centrifugal pump with a single stage high head capability. The pump meets the requirements of API 685 and has full ATEX compliance for use in chemical and hydrocarbon processing applications.
Barkse Wheel pumps are designed for a low specific speed regime often referred to as low flow, high head applications. These pumps have an open impeller with straight blades and a tapered conical diffuser to produce the desired performance. The company says its development and testing has demonstrated that this combination produces a head factor (ratio of developed head to theoretical head) higher than traditional back-swept Francis vane impellers.
The latest GSPLF sealless magnetic drive pumps handle flows from 18 to 132 gpm (4 to 30 m3/hr) and deliver head pressures up to 490 ft (150m).  Temperature ranges have been widened to accommodate -40 to 500 F (-40 to 260 C), and standard design pressure can handle up to 580 psi (40 Bar).