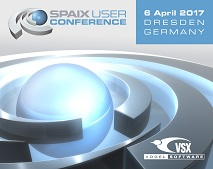 The Spaix software solutions are comprehensive systems for the selection, configuration and quote generation of centrifugal pumps available for platforms such as Windows, web and mobile.  VSX Vogel Software develops applications for the selection and calculation of fluidic components and systems. The introduction of the new pump selection software Spaix, Version 5, will be a highlight for the company in 2017.
The one-day conference, which which will take place in Dresden on 6 April 2017, will provide a mix of user reports and lectures on new program features. It is mainly aimed at manufacturers of centrifugal pumps and users within the fluid handling industry, the chemical industry as well as the process and plant engineering industry. The presentations content is designed for executives and specialized engineers, product management and sales and marketing employees.
The event is rounded-off by practice-oriented sessions, which are held by members of the VSX support team.
The Spaix User Conference takes place on 6 April 2017 at Elbflorenz Dresden Hotel, Dresden, Germany.