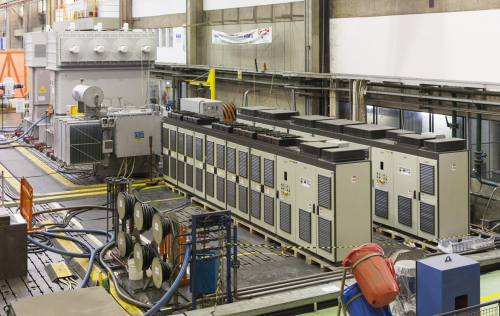 As a multinational company, WEG supplies a range of solutions to the mining industry for driving large mills, including low and high speed motors, gearboxes and frequency inverters across the globe.
Due to complexity and cost, equipment is usually tested individually; however, for this important project, the whole unit was tested as a complete system before shipment to ensure reliability, as required by the application.
WEG's laboratory is equipped with state-of-the-art instruments and test systems within an area of approximately 1,000 square metres. The tests were carried out over a period of four weeks and included two 4,700kW 30-pole synchronous motors connected back-to-back and directly coupled to the shaft. They were driven by medium voltage model MVW01 frequency inverters producing a current of 1,178A at 3.3kV alongside a phase-shifting transformer.
The equipment was tested at full load and provided a torque of 250,000Nm at the motor shaft, recording the highest testing load ever achieved by any electrical equipment manufacturer in the southern hemisphere.
Important order
The products are part of an important order for electric motor drives for eighteen ball mills and semi-autogenous grinding (SAG) mills with dual and single pinions. Autogenous grinding means that the mining ore essentially grinds itself. Such ball mills are used for grinding and crushing mining ore within a large rotating drum.
The project included the installation of a bypass on panels. The portfolio of WEG products for mills used in the mining and cement industries includes induction, synchronous or wound-rotor motors driven by frequency inverters or rheostats in case of constant speed for mills with single or dual pinion with load share.
In addition to the experience and the structure of WEG plants in Brazil, the Electric Machinery Company from Minneapolis, USA, has been incorporated to the WEG group, adding to the knowledge and experience of a company which has made thousands of synchronous motors during a long history lasting more than 120 years. Nowadays, WEG offers synchronous machines of up to 110 MW, suitable for many different applications in the world market.