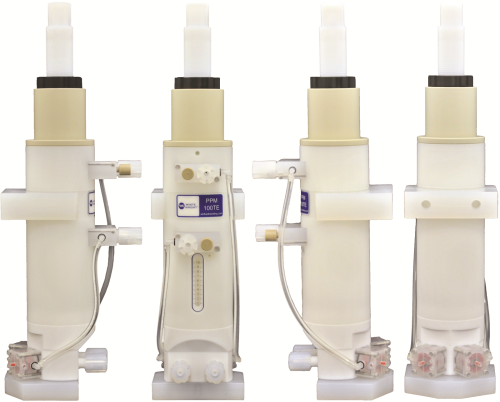 White Knight Fluid Handling, manufacturer of air-operated double-bellows (AODB) pumps for the semiconductor, solar, LED and electronics industries, has released the PPM100 metering pump. The PPM100 is a high-pressure (60-85 psi), and ultra-pure, air-operated metering pump capable of accurately dispensing up to 100ml of corrosive media with 0.1% repeatability.
The PPM100 is capable of delivering fluids in precise, adjustable flow rates for use in single-wafer processing tools or in premix vessels to ensure exact chemistry mixtures. White Knight claims that the pump could even eliminate the need for mixture vessels in many systems by offering a method for in-situ mixing directly at the head.
The PPM100 was designed for chemical replenishing, blending, dosing, and spiking applications, as well as uses in cleaning of CVD equipment and photolithography. Specifically, the pump is ideal for photoresist applications, etch and clean processes, peroxide spiking in piranha etching mixtures, and other blending of chemical mixtures into process tanks prior to the introduction of substrates.
The pump features safe, leak- and maintenance-free operation within a 100% PTFE fluid path that is impervious to chemical attack, which is ideal for ultra-high purity applications. The housing is made of polypropylene, and all metals are encased in plastic to prevent corrosion or contamination.