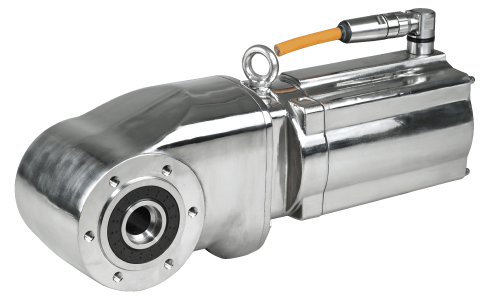 Bauer Gear Motor, part of Altra Industrial Motion, launched the world's first modular, stainless steel, IE4 super premium efficiency geared motor at Hannover Messe 2014 in April. Building on the tried and tested Bauer permanent magnetic synchronous motor (PMSM) and aseptic drive technologies, the new stainless steel model combines the benefits of both and is deisnged for use in hygiene critical applications where high footfall and frequent washdowns could damage specialist coatings.
Due to the special hygiene demands of industries such as pharmaceuticals and food & beverage, specialist components typically have to be specified which can withstand the regular cleaning regimes and guarantee clean operation without risk of contamination. However, because the return on R&D investment is slower for specialist components, the latest energy efficiency developments often filter through at a slower rate when compared to standard motor products. As such there are very few IE4 super premium efficiency geared motors suitable for these applications.
Like its IE4 Asepticdrive, the stainless steel modular geared motor from Bauer is designed with surfaces which slope by at least 3° to prevent the formation of dirt deposits and allow the run-off of cleaning agents and water. The stainless steel construction eliminates the risk of the hygiene rating becoming compromised in the event of an impact or over prolonged periods of use in heavy washdown environments.