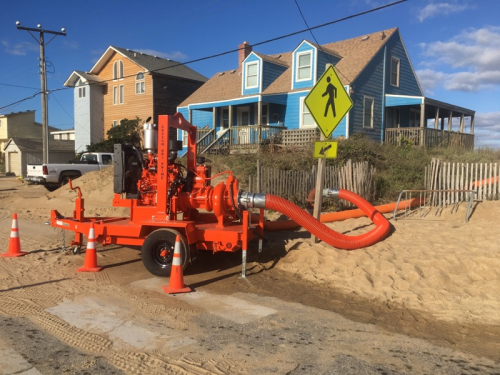 Xylem's branches in North Charleston, South Carolina and Jacksonville, Florida worked around the clock to provide rapid response dewatering capabilities to keep local infrastructure and community facilities functional during and after Hurricane Matthew.
The Xylem teams strategically positioned more than 400 Godwin high-performance dewatering pumps and accessories from Norfolk, Virginia to Miami, Florida.
After the storm made landfall in the southeastern US, Xylem's local teams continued to work with customers to help in community recovery by moving pumps and equipment quickly into place, once conditions became safe.
In an example of Xylem's 24/7 emergency response support, the authorities of a town on Georgia's barrier islands worked with the company on a contingency plan ahead of the storm, mobilizing multiple Godwin pumps to support their infrastructure in anticipation of flooding. After the storm hit, the town needed additional accessories. And with the access road to the island backed up with road blocks and traffic, the town's mayor personally contacted Xylem employee Daniel Collier with the urgent need. Collier was able to get to the Jacksonville branch, collect the necessary items that the town needed, and deliver them to the customer via National Guard helicopter.
"By putting contingency plans in place we can rapidly mobilize pumps where they need to be to support even the worst emergency situation," said Mike Delzingaro, vice president of Sales and Branch Operations for Xylem's pump rental business.