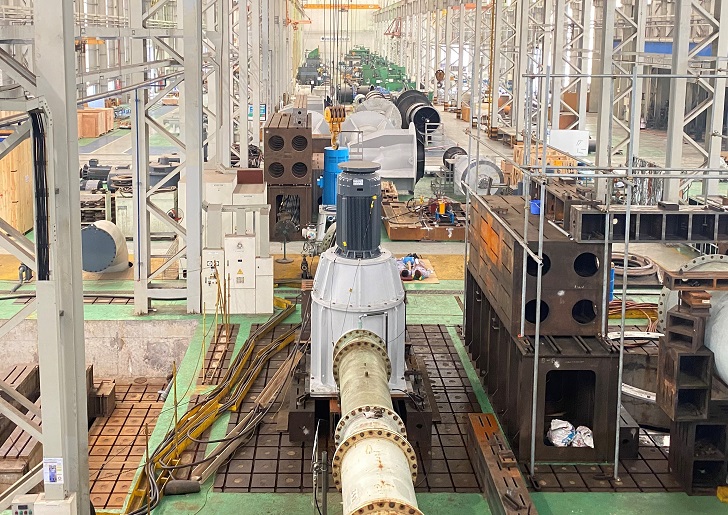 Brazil's Ebara Bombas América do Sul Ltda (EBAS) has received an order for a vertical pump from steel maker Companhia Siderurgica Nacional.
This is the first order that Ebara has received for a vertical pump in Brazil in almost 50 years.
The custom pump will be manufactured at an Ebara plant in Vietnam and is scheduled to be shipped in March 2021.
Before EBAS predecessor Ebara Industrias Mecânicas e Comercio Ltda was founded in the 1970s, Ebara had been providing custom pumps manufactured in Japan as well as service & support in South America. Establishing a Brazilian production base in 1975, Ebara was able to deliver custom pumps to a number of industries such as water and sewage, steel, electric power and fertilizer plants not only in Brazil but all over South America including Argentina, Chile, Venezuela and Columbia. Then in the 1980s, with the downturn of the Brazilian economy, Ebara's networks with custom pump customers in South America came to an end.
Since it was founded, EBAS has been manufacturing standard and deep well pumps. The design, manufacturing and testing of custom pump bodies is led by Ebara's Futtsu plant in Japan, in cooperation with plants in China and Vietnam.
In order to regain custom pumps customers, EBAS has been offering enhanced Service & Support to customers; long-term maintenance service and overhaul of pumps; spare parts that can be procured locally with short lead times; routine maintenance support, abnormality diagnostic service; and on-site pump performance testing at a customer's site. As a result, orders have been increasing gradually. In 2017 a custom pump order was received from a customer in Uruguay; in 2018 Ebara won an order from Columbia; and now Ebara has secured an order for a vertical pump in Brazil.