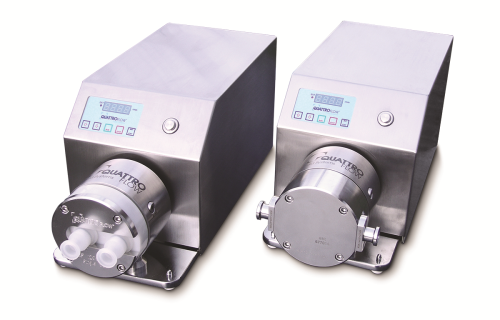 Interphex focuses on the pharmaceutical and biotech. Quattroflow's QF20KSU single-use pump features replaceable polypropylene wetted pump chambers, which can be replaced as a complete unit between batches to eliminate sterilization, lower cross-product contamination risk and reduce downtime.
This design also assists in optimizing speed-to-market to maximize product availability within its patent window. The QF20KSU features flow rates of 200 - 16,000 lph (53 - 4,227 gph), 51 mm (2 in) connections, and autoclave and gamma irradiation capabilities.
Also on display will be the new Quattroflow QF1200-HT single- and multi-use pumps featuring a high turn down ratio for accuracy in controlling flow rates. With its small footprint, the QF1200-HT offers flow rates of 6 – 1,200 lph (1.6 - 317 gph) and 19 mm (3/4 in) connections.
Quattroflow pumps are aimed at the biopharmaceutical and biotech industries which require gentle product handling, high containment, low pulsation, purity and cleanability.