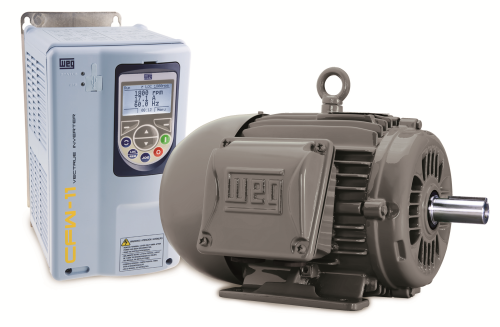 WEG will exhibit the new W22 permanent-magnet motor, its new standard induction W50 and W60 motors and CFW500 variable speed drive, at the 26th International POLLUTEC exhibition which will take place 2-5 December 2014 in Lyon, France.
The W22 permanent-magnet motor is one of the first motors to qualify for IE5 Ultra-Premium motor designation.According to WEG, the W22 range has energy losses roughly 20% lower than the Super Premium models, which puts it among the first IE5 Ultra-Premium motors on the market to fulfil the present criteria for the potential IE5 energy efficiency class, making it one of the most efficient electric motors currently available.
"EU Motor Efficiency Regulations come into effect in January 2015, so energy efficiency is high on the industry's agenda. The new legislation stipulates that IE3 induction motors, or alternatively IE2 motors driven by frequency inverters, must be used in industrial appliances," says Yves Jamet, projects and marketing manager at WEG France. "WEG has raised the bar for energy efficiency with the introduction of the W22 permanent-magnet series, continuing to help engineers maximise the energy efficiency of their processes."
Other highlights from WEG include the W50 and W60 ranges. The manufacturer claims these compact, three-phase induction motors deliver a reliable performance even under adverse conditions. The motors are likely to be used in pumps, compressors and fans and are suitable for practically all industrial appliances. The design has been optimised to make the motors more compact than their predecessors, offering lower weight, smaller dimensions and reduced footprint.
Complementing the motors will be WEG's CFW500, a variable speed drive with embedded micro-PLC. The CFW500 range features technology that delivers a suitable level of control, at an affordable cost, enabling manufacturers to improve processes and make significant savings. These drives, which include a built-in micro-PLC, are based on a modular plug and play design, and are easy to use and program.