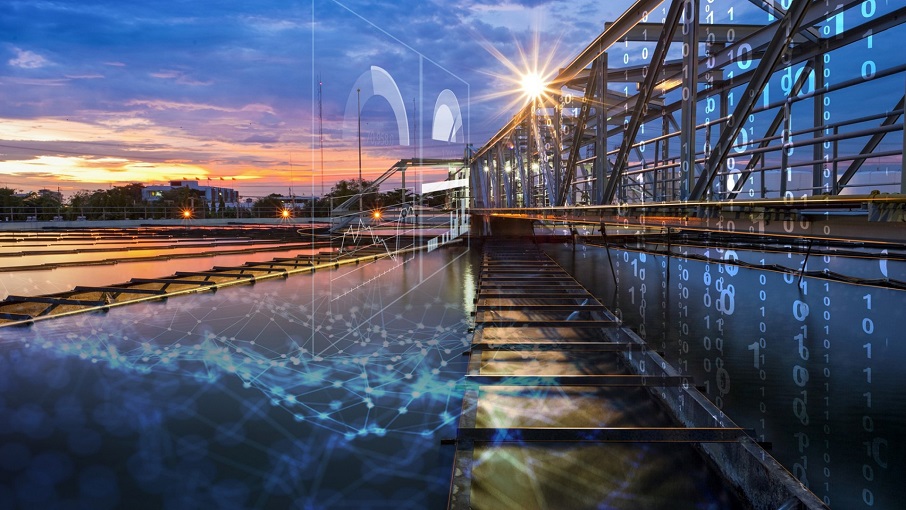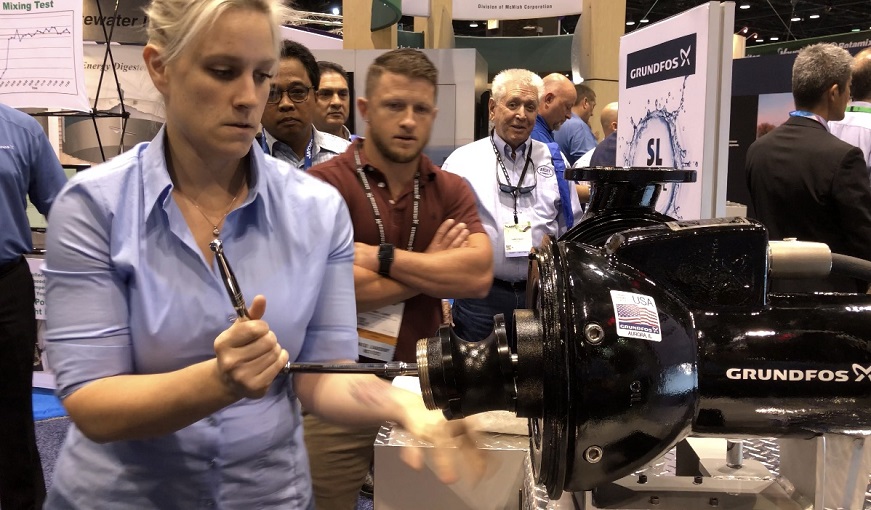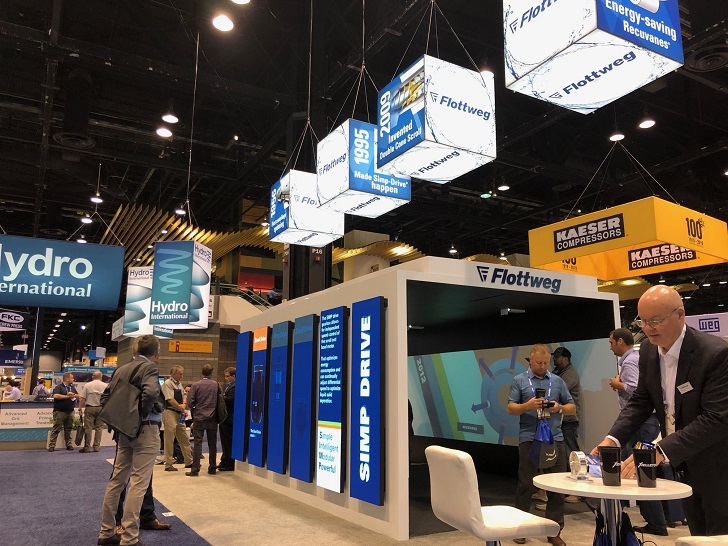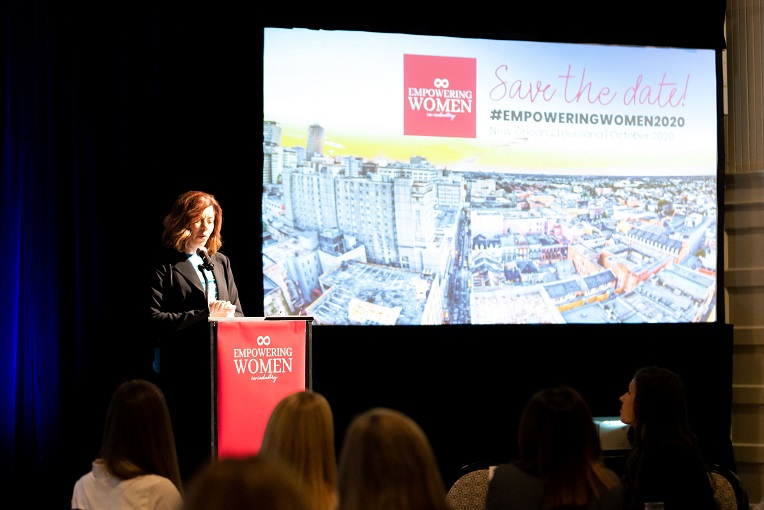 WEFTEC is the largest wastewater trade show in the US. Trends in this year's exhibtion include re-generation, global opportunities, efficiency, and IIoT. In this show review, Michelle Segrest of Navigate Content Inc gives her impressions from the showroom floor.
ReGeneration, with a capital 'G', according to the Water Environment Federation (WEF), is a global movement that consists of people from many nationalities and diverse backgrounds who are passionate about sustaining the earth's natural environment.
'ReGeneration: Workforce' was the overriding theme as more than 20,000 water professionals and more than 1,000 water companies gathered at Chicago's McCormick Place for the Water Environment Federation's 92nd Annual Technical Exhibition and Conference (WEFTEC). According to WEC, ReGeneration is all about "…harnessing the power of individuals to regenerate and reinvigorate the water sector by providing new solutions that protect our shared environment." Harmful algal  George Vorsheim, longtime business development manager for Environment One said that while navigating around the WEFTEC showroom floor it became apparent that the industry is healthy even as concerns mount pursuant to recession fears and the political will to push for water/wastewater infrastructure initiatives on Capitol Hill.  
"It's no surprise to see more coalition and consensus-building happening, as harmful algal blooms now strike every state in the US," Vorsheim said. "Products and services that address failing septic tanks, which feed these blooms, continue to be on the rise and several system solutions were evident on the show floor."
More products that meet value-based procurement programs are emerging as communities around the world seek proven solutions that will stand the test of time, Vorsheim said. "Durability, reliability, and maintainability reign as considerations for projects where Life-Cycle Cost is key. That all ties into Customer Satisfaction, not just making investment-grade deals.
Wastewater professionals are using telemetry equipment to monitor everything from large lift stations serving hundreds of homes to grinder pumps serving individual sites, which provides evidence to the strides made toward seamless predictive maintenance systems moving forward.
Global opportunity Besides country pavilions from Canada; China; Korea; Denmark; The Netherlands; Spain; and Taiwan, there were several trade delegations roaming the show. A major focal point at the 92nd WEFTEC, according to Vorsheim, was the Global Center, which was impossible to miss coming or going at the entrance to the main exhibition hall.  
Ryan Russell, global environmental technologies team leader for the US Commercial Service, on hand at the show, gave a succinct description of what their mission is about. "…the US Commercial Service (CS), part of the US Department of Commerce's International Trade Administration, offers companies a full range of expertise in international trade.
Companies can find assistance locally in more than 100 US Commercial Service offices nationwide and in more than 70 international offices. Available support includes export counseling, matchmaking services, market intelligence, and commercial diplomacy."  
More with less A critical challenge for today's wastewater and water quality professionals is that they are being asked to do more with less. "For this reason, it's essential for us to deliver a return on the investment," according to Daniel Lakovic, business development manager for Flottweg Separation Technology, Inc. "We work to do so by empowering them, giving them tools to generate new revenue streams, and cutting costs so that they can show their constituents that they're spending tax money in a prudent way."
Communities continue to grow and put further stress on our infrastructures, which also forces municipalities to do more with less, Lakovic continued. "Proving ROI seems to resonate with most folks. Having 'good technology' talk is cheap unless you can back it up with facts and figures. IIoT is also a growing subject."
Flottweg Separation Technology is looking to do just that, he said. "The company in general wants you to first know why we do what we do. We are engineers that are passionate about solving problems. And we will stick with you until the job is done.
We do this by providing the excellent centrifuge technology that is built to last. Flottweg presented its company in a whole new way this year, using LED displays and an immersive theatre to present the company heritage and the latest innovations, all of which culminated into the presentation of Xelletor, an innovative centrifuge scroll design.
Centrifuges can be used for a couple different steps, Lakovic explained, including the thickening of primary sludge, or to separate liquids and solids toward the end of the treatment process— dewatering. The solids left over can be removed and hauled to a landfill, or sometimes they are treated further to a Class A solid to be used as fertilizer, for animal feed, or can be burned to create further energy. 
Like most companies, Flottweg is pioneering some exciting new features and technologies to increase energy efficiency in its centrifuges. "There are holes where the liquid comes out of the centrifuge, and what we're doing is essentially redirecting the flow of that liquid to help turn the machine," Lakovic explained. "This is effectively eliminating energy waste by harnessing that flow of liquid to help spin the machine. This can help to reduce the energy consumption of the treatment facility.
IIoT  Interconnecting machinery so that devices can talk to each other was another theme of WEFTEC 2019. "That's been a trend for a number of years now, and we are also involved in that," Lakovic said. "We have added more sensors in the process line, on the feed, solids and the liquids sides. Those sensors are giving us the information needed to do several different things — like adjust the speed of our machines in an automated fashion. But it's about more than just putting sensors into your own equipment. You also need to integrate our equipment with the rest of the devices that make up the system. That means the feed process that's going through our machine needs to integrate with the conveyor system that takes the solid waste away after our machine." 
Automation means more than reducing the size of the labor force. It also helps reduce wear on devices because the sensors make sure that they're operating optimally, Lakovic said. "This means there's less of a chance of something breaking down because the sensors are protecting the machines."
Different approaches Grundfos experts Robert Montenegro, vice president of water utility, Anthony Stanley, digital sales manager, and Brendan Watson, controls and monitoring product manager explained that Grundfos has discovered that many municipalities are conservative, thanks to the tremendous amount of pressure not to jeopardize the water supply and treatment services all of us count on. 
In the same respect, there are also progressive municipalities that want to utilize technology in a smarter way that uses less power, makes the job easier, and offers more value. Grundfos offers both highly reliable pumps and leading-edge technologies based on the municipalities needs.
The Grundfos booth highlighted both traditional and digital offerings. As part of the display for its traditional products, the company hosted the SL Seal Change Challenge, a hands-on competition for consulting engineers, municipal employees and municipal operators to show their pump seal-changing skills on the highly reliable SL submersible pump. The winner, who had never touched a Grundfos SL pump before, was able to change the seal in a record-setting two minutes and thirty-six seconds.
Grundfos introduced WEFTEC attendees to Grundfos condition monitoring and the LC 231 and LC 241 pump station control panels. Additional products featured at the booth were a custom Grundfos engineered systems skid with Grundfos condition monitoring; SE and SL submersible pumps; SMART digital dosing pumps; digital instrumentation for dosing; and dosing skid systems. 
Digital technologies The Godwin CD100S was introduced as ideal for utility and construction applications, as well as emergency response dewatering. The CD impeller, generally used in construction dewatering applications, can be exchanged with a Flygt N-Technology self-cleaning, non-clog impeller, which delivers sustained hydraulic efficiency. This provides customers with the flexibility to tackle stringy, fibrous materials most commonly associated with modern wastewater applications, all with the same pump. 
Commenting on the launch, Hunter Powell, Americas Godwin product manager with Xylem said, "The Godwin NC100S and CD100S dri-prime pumps are designed to be versatile, multi-purpose dewatering pumps, for use in the industry's most challenging construction, municipal, industrial, and emergency response applications. Due to these pumps' unique design and interchangeable impellers, the customer can now select a single versatile pump which can handle complex solids from 17/8 in solids to modern stringy waste across a variety of applications.
"Digital technology is creating bold new possibilities to address the challenges of water affordability, scarcity and resilience and Xylem is committed to driving this digital transformation. The 4 in surface-mounted dewatering pumps come equipped with our newest generation of Field Smart Technology (FST) which allows customers to monitor and control the pump remotely, at any time and from anywhere in the world.
Field Smart Technology increases peace of mind, as the customer knows the exact location, status and condition of the pump, enabling proactive maintenance for increased uptime and reduced service time, and mitigating costly pump failures. Remote monitoring and control also supports more effective deployment of labor as it removes the need for on-site pump watch."
Aging infrastructure Whenever you install something new, it must work seamlessly with the old equipment. The same goes for drives, said Siemens' John Meyer. "Maybe you're replacing an old drive, or maybe you're putting drives in old systems for the first time. That's where the new SINAMICS G120X can help," Meyer said. "With integrated functions such as pipe filling mode, soft start and others, you can ensure the new doesn't harm the old. And since Siemens has integrated de-ragging and anti-cavitation, you can preserve those older components for another day.
Drives can also play a role in reducing rising operational costs, Meyer said. "The new SINAMICS G120X has integrated eco-mode, energy-savings mode, hibernation mode and other functionalities along with an integrated energy-savings calculator displayed on the keypad," he explained. "But there are more costs than energy. What about training or startup/commissioning time? With the easy-to-use color graphical operator interface, training is greatly reduced, and startups are a snap. Or maybe you prefer Wi-Fi connectivity, so you can do it all with a phone or tablet."
Improving efficiency has become job one with many municipalities. Drives are often considered as a way to do that. But simply adding a drive doesn't give you the savings you might think, Meyer explained. "It's the way you use the drive to control your system that delivers results. Of course, installing a drive that's already 98%+ efficient is a great start."
Women in Engineering  Empowering Women in Industry hosted a one-day conference and awards gala in Chicago on 26 September 2019, to Connect, Educate, and Empower Women in male-dominated professions. With the mission to develop more effective leaders and a goal of helping women grow personally and professionally, the organizers of the event designed a curriculum that focused on change intelligence, mentoring & workforce development, personal branding, networking, negotiating, and empowering women to be their best selves.  
The event included a full day of speakers, interactive breakout sessions, and an awards gala where 12 women were honored with crystal plaques etched with acknowledgements in several categories. 
"We were honored to have Eileen O'Neill (WEF's recently retired executive director) participate as the emcee during the awards gala, and it was a wonderful way to celebrate the accomplishments of so many leading ladies in industry," declares founder and CEO, Charli K. Matthews. "We brought women together from water/wastewater, oil and gas, HVAC, construction, and in positions within manufacturing, engineering, sales & marketing, media and education, as well as entrepreneurs, tradeswomen, and operators!
This contributed to the success of our event as we pushed ourselves to learn from people outside our everyday network and career track. These women are the role models needed to build our future workforce – learning from and recognizing these leading ladies across industries makes a difference in effecting change."
Among more than 60 nominees from across the globe included a few Water Environment Federation (WEF) members, including Lisa McFadden, Brianne Nakamura, and Morgan Brown, who was given the award for Industry Advocacy. The other award winners were: Mary Frances Klimek (Mentor of the Year), Heather Wootton (Marketer of the Year), Angel Wileman (Leadership in STEM), Erika Houtz (Innovator of the Year), Caitlin Bell (Engineer of the Year), Allison Blake (Emerging Leader of the Year), Martha Barton (Saleswoman of the Year), Jennifer Cisneros (Leadership in Manufacturing), Heather Hey (Leadership in Reliability & Operations). www.empoweringwomeninindustry.com