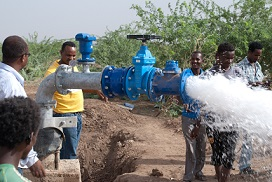 With more than 70 years of experience behind them, many of them specialising in supplying solutions for the agricultural industry, the Caprari Group has launched the MEC AG series, used in pivot systems, anti-frost systems and fixed-nozzle systems.
Among the international projects that Caprari has been involved in is one for the Somali government, where the company has supplied its E series submersible units with motors.
In recent years, the market for diesel motors used on motor pumps has evolved considerably and they are now lighter and designed for "rough" operation, which has had a major impact on coupled pumps because all the shocks are directly transferred.
Caprari has adopted new design solutions for the maximum reliability and durability of the MEC-MG series and the result was the MEC-MG HT - HI TORQUE range that optimizes resistance to mechanical stress.