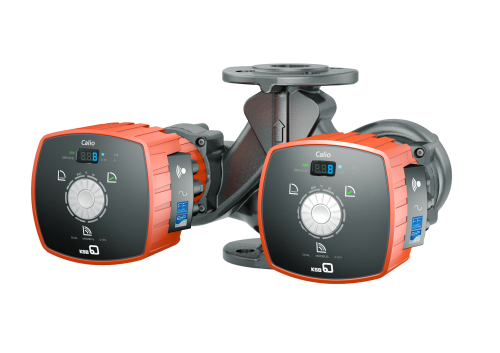 Twin pumps are often used where reliability requirements are high or space is limited. During normal operation, one of the two pumps is on duty for 24 hours. After that, it changes to stand-by, and the other pump takes over. This ensures that the load is equally distributed between the two pumps and that they are always ready for operation. Should a failure occur at one of the pump sets, the integrated monitoring system will effect an automatic changeover. Manual pump changeover is also possible.
The integrated swing check valve prevents backflow through the pump while the pump set is not running. The hydraulic operating range covers flow rates of up to 52 m3/h at heads of up to 18 m of water. The pumps are driven by synchronous, electronically commutated canned motors.
Common building services signals are processed by the pumps, which are fitted with the required interfaces as standard. With the integrated Modbus interface, existing automation systems can easily be linked. Other product-integrated analog and digital interfaces are also available.
In addition to the familiar operating modes of constant-pressure control, proportional-pressure control and fixed speed operation, the newly developed operating software comprising an integrated energy-saving function called Eco Mode further saves costs.
Just like the smaller Calio sizes, the new pumps satisfy all current efficiency regulations.
The fluid temperature range from -10 °C to +110 °C makes the new pump sets suitable for a wide variety of applications, from heating water to coolant transport and industrial recirculation systems.